Arranging the layout of your SimpleSite
Learn how to turn on/off options governing the layout of your website.
The layout also affects your SimpleSite's appearance. Here are the steps to change the options.
Log in and select the "edit" tab while you're on the Home page.
From the row of options near the top, click on "layout".
Check or uncheck the box next to each option as desired. (See illustrated examples below.) The description under each item explains what area will be affected.
Save.
Log out when you're done.
The layout options include:
All layout options are turned on.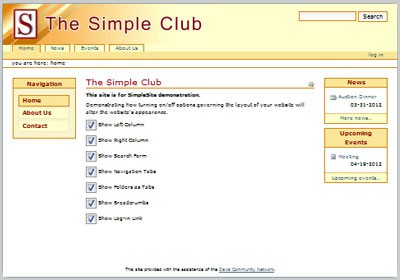 Show Left Column

The site's left column is used for navigation. Turn it off and the center-column text will expand to fill the space. If you do so, you'll need to supply links to navigate to any other site content. This option is most useful if you have a single page site.

The left column option is turned off.

Show Right Column

The right column of the site's home page is used for news and events portlets. Turn it off and the center-column text will expand to fill the space.

The right column option is turned off.

Show Search Form

When turned on, a site search form will show up in the upper-left corner of every page. If you don't have many pages in your site, this really isn't useful.

Show Navigation Folders

When turned on, a navigation tabs will be displayed in a horizontal bar in the top-of-page banner. If it isn't helpful, turn it off.

Show Folders as Tabs

When turned on, this causes your top-level folders to appear as navigation tabs in the banner area of your site. This may help organize your site, but if you have many top-level folders, you'll want to turn this off so that there aren't a confusing number of tabs.

Show Breadcrumbs

When turned on, a "you are here" line will appear under the tab area. This is a navigational device that can help orient users who find themselves deep in a site folder hierarchy. You may wish to turn off breadcrumb display if your site is very shallow (in form, not substance) to reduce visual clutter.

The options around the banner area (search form, navigation folders, folders and tabs, and breadcrumbs are turned off.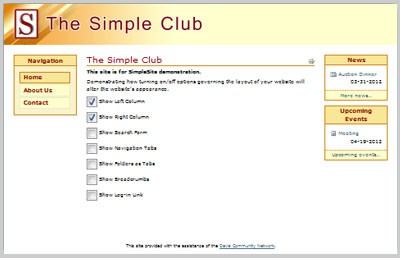 Document Actions