Join DCN's Facebook by May 19th to enter drawing for a grand prize
The prize includes a laptop case filled with goodies such as a $20 gift card for downtown shopping, a 8GB USB drive, a DCN t-shirt, screen mitts, and sticky pads.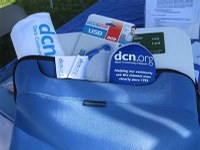 DCN will be at Celebrate Davis on Thursday, May 13th at Community Park. Our theme this year is Social Media. In the spirit of social media, we will be encouraging people to "like" i.e. "join us" on Facebook by May 19th. We will randomly select one of our "fans" to win our grand prize: a laptop bag stuffed full of special computer-related items. Come visit us and get more information!
Two free classes on social media will be offered on May 20 and May 27. See details.
Document Actions