Celebrate Social Media Day with Free Hands-on Session on June 30
In recognition of Social Media Day on June 30, 2010, DCN will host an informal "drop-in" session at the City Computer Lab, 600 A Street. DCN volunteers will be on hand to answer your social media questions.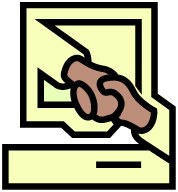 Curious about Twitter? Are Facebook's new privacy settings confusing you? This is your chance to ask questions. Drop-in hours will be 6:30-8:00 p.m. No presentations are planned, just an opportunity for one-on-one assistance. Several desktops are available in the lab on a first-come-first-served basis. Bring your Wi-Fi equipped laptop if you like.
Last month DCN held two new classes on social media. We had a great turnout and enjoyed teaching community members and nonprofit representatives about how and why to use social media. We demonstrated how to use two of the more popular tools (Facebook and Twitter) and set up a support group. Questions? Contact admin@dcn.org.
Document Actions