DCN Class - "Managing Your Brand and Keeping an Eye on the Competition"
Keeping track of what people are saying about your organization, your business, your competition, or yourself is an important aspect of PR and branding. In this class, you will learn how to use a variety of Internet and social media tools to do so. Thurs., 10/28/2010, 6:30 p.m. at the City Training Lab. Free and open to the public. Register now!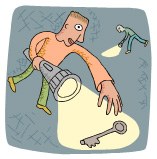 Location: City Training Lab, 600 A Street (between City Hall and the Senior Center). Parking available south of the building. Enter the courtyard on the south side of the building; the lab will be the first door on your right.
Date & Time: Thursday, 10/28/2010, 6:30-8:00 p.m.
Instructor: Stewart Savage
Registration: Admission is free. However, space is limited. Please contact admin@dcn.org or 750-1170 to register.
Subscribe to DCN News to stay tuned for class announcements. You can also consult our calendar for upcoming classes.
Document Actions