Fall 2011 class schedule. Register now!
DCN frequently schedules free public classes and workshops in its commitment to public education about the Internet and its community applications and services. The classes include a wide array of topics on Internet tools useful for organizations and individuals alike. Admission is free. However, space is limited. Pre-registration is required to make sure sufficient handouts are available. Register now!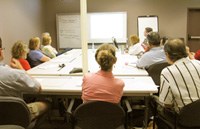 Location: DCN classes are held at the City Training Lab, 600 A Street (between City Hall and the Senior Center). Enter the courtyard on the south side of the building; the lab will be the first door on your right.
Dates & Times: Dates are listed in the schedule. All classes are 6:30-8:00 p.m. unless stated otherwise.
Registration: Admission is free. Space is limited. Use the online form to register. Question? Contact admin@dcn.org or 750-1170.
Subscribe to DCN News to stay tuned for class announcements. You can also consult our calendar for upcoming classes.
Document Actions