DCN Class: "How to Configure Your Facebook Settings for Security and Privacy"
This class is part of DCN's Social Media Series. We will walk you through recommended privacy settings in Facebook. We will show you how to set secure levels of privacy and reduce the chance of becoming a victim of hacking, viruses, information collectors and identity thieves. The class is for current Facebook users but non-users are also welcome. Tuesday, 9/27/2011, 6:30-8:00 p.m. at the City Training Lab. Free and open to the public. Register now!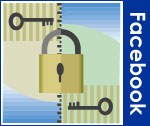 Location: City Training Lab, 600 A Street (between City Hall and the Senior Center). Park on the south side of the building. Walk north toward the building to enter the courtyard. The lab is the first door on your right.
Date & Time: Tuesday, 9/27/2011, 6:30-8:00 p.m.
Instructor: Teri Greenfield
Registration: Admission is free. However, space is limited. Pre-registration is required. Register now!
See the upcoming class list or subscribe to DCN News to stay tuned for class announcements. You can also consult our calendar for upcoming classes.
Document Actions