DCN Class - "Video On Your Website" - Thurs, 4/25/2013
You have shot some fine video footage on your camera but how to you get it onto the web? Want to put your video on YouTube or your own website? This class will cover the steps and some of the options for getting video from your camera to a viewable video on the Internet. Need to do some editing on your video? This step will be discussed too.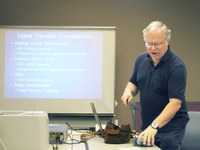 Location: DCN classes will be held in a classroom in the Technology Department Lab of the Davis Joint Unified School District. The street address is 526 B Street, but the lab is closer to C Street where curb parking is available. Look for the building next to (north of) 515 C Street. The lab is the first door on your right with "Training Room" on the door. (See map and directions.)
Date & Time: Thursday, 4/25/2013, 6:30-8:00 p.m.
Instructor: Russ Hobby
Document Actions