Thanks for the excellent feedback!
"I feel confident that I could upload a video to YouTube and/or link it to my web page. Very helpful." -- on the usefulness of DCN's class, "Creating Your Own Web Video." Thank you for rating all aspects of the class as excellent in all the feedback received!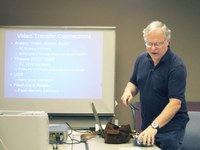 Russ Hobby explains and shows the class examples of equipment needed for Web video.
In this class, DCN board member and volunteer instructor Russ Hobby presented the equipment and demonstrated how to edit raw video, upload to the Internet, embed onto and/or link to one's website. Russ also shared many useful tips to demystify Web video.
"Felt the material was straight forward and well presented."
Credit should also go to the enthusiastic participants in lively discussions and Q&A.
"Russ seems knowledgeable but doesn't lecture at you. He solicits input from the class which makes the learning more interactive."
"A fabulous class!"
"THANK YOU, DCN!"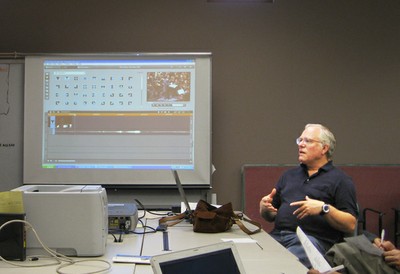 Document Actions