DCN Class - "Communication Strategies for Nonprofits"
Look Before You Leap: Choosing the Best Communication Tools for Your Nonprofit. Does your nonprofit organization want to make a greater impact, involve more people or raise more money? You can if you get better at reaching out, telling your story and getting people to notice you. This is what strategic communication is all about. There are a lot of tools out there designed to help you communicate with your various target audiences. Some are traditional (like press releases and direct mail), some are new like social media (Facebook, Twitter). What tools are best for you? Tuesday, 5/1/2012, 6:30 PM at 526 B St. Free and open to the public. Pre-registration required.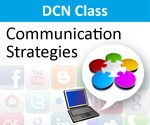 Location: The street address is 526 B Street, at DJUSD's Technology Department Lab, (between Russell and 6th Street); but the lab is closer to C Street where curb parking is available. Look for the building next to (north of) 515 C Street. The lab is first door on the right. (See map)
Date & Time: Tuesday, 5/1/2012, 6:30-8:00 p.m.
Instructor: Kari Peterson
Document Actions