Our medal arrives from Computerworld
The Nonprofit Internet Toolkit, used by hundreds of Davis and Yolo nonprofits, was honored as a laureate in the collaboration category of the 2011 Computerworld Honors Program.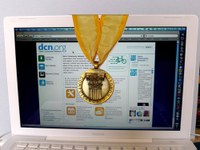 The awards honor "visionary applications of information technology promoting positive social, economic and educational change." Judges liked the Nonprofit Internet Toolkit -- the package of open-source web tools, support and training, that we make freely available to local nonprofits.

We've already posted an article about the award. Today, we just want to share a photo of the medal, which arrived in the mail in July.
Document Actions