Seeking Ideas For Future DCN Classes
We're starting to develop our Spring class schedule, and we need your help! Please take a few minutes to complete a very short survey. Let us know what Internet topics you are interested in learning about, what times are best for you, and any other suggestions you have. Our classes are free and taught by knowledgeable volunteers, and we will be in a new, larger location this Spring. We would appreciate your response by Sunday, February 26, 2012 at 5 p.m.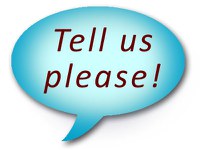 Preparing for Spring Classes
Click here to start survey
We frequently schedules free public classes and workshops in Davis. Our goals are to help de-mystify computing technology involving the Internet, and to show people how to use our community applications and services (usually free to community groups and nonprofits).
Please forward this survey to friends who might also like to respond.
[For previously taught classes, click here.]
Document Actions