Joint meeting of City Council and Telecommunications Commission
Video streaming of the March 20, 2012 meeting is available online.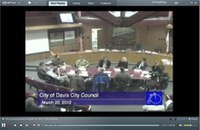 To access the video streaming, visit the City of Davis website at www.cityofdavis.org/media/, then click on the link for "Tue. Mar. 20, 2012."
To view the video, you will need video software that supports RealVideo format.
Document Actions