DCN's Steve McMahon presented "Cutting The Cable" at UCD's brown bag
Over 100 attended the presentation on March 22 organized by UC Davis's Worklife and Wellness program.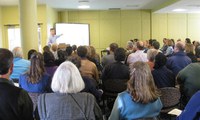 The presentation talks about the increased interest nationwide in dropping expensive cable or dish service and getting one's video from the Web. This informative and humorous class covers what one needs to know to watch your favorite TV programs with only a TV antenna and high speed internet connection. Learn about streaming Netflix, Hulu, YouTube, Pandora and other video and audio streams via the Internet to your HDTV. Learn about using Windows 7 Media Player and a Roku Internet appliance for recording and streaming video to your HDTV.
Document Actions