DCN Class - "Protecting Yourself Online: A Guide to Internet Safety" - Tue, 10/9/2012
Do you know what to do if you get a computer virus, or how to turn off geolocation on your smartphone? These are two of the topics we will address in this class on Internet security. Other topics include malware, phishing, scams, identity theft, antivirus and firewall software, passwords, social media privacy concerns, router settings, smartphones, and much more. Free and open to the public. Pre-registration required!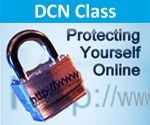 Date & Time: Tuesday, 10/9/2012, 6:30-8:30 p.m.
Location: DCN classes will be held in a classroom in the Technology Department Lab of the Davis Joint Unified School District. The street address is 526 B Street, but the lab is closer to C Street where curb parking is available. Look for the building next to (north of) 515 C Street. The lab is the first door on your right with "Training Room" on the door. (See map and directions.)
Instructor: Tim Valdepena
Registration: Admission is free. Space is limited. Registration is required to ensure sufficient handouts will be available.
See the upcoming class list or subscribe to DCN News to stay tuned for class announcements.
Document Actions