DCN Class - "Introduction to the Concept of Cloud Computing" - Thurs, 10/18/2012
What is the "cloud"? Do you still need a PC? This class will define cloud computing, describe the benefits and challenges, help you understand how the different aspects fit together (software applications, virtual servers, web-based applications such as Google Docs) and discuss security issues.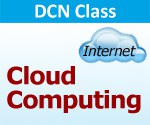 Date & Time: Thursday, 10/18/2012, 6:30-8:30 p.m.
Location: DCN classes will be held in a classroom in the Technology Department Lab of the Davis Joint Unified School District. The street address is 526 B Street, but the lab is closer to C Street where curb parking is available. Look for the building next to (north of) 515 C Street. The lab is the first door on your right with "Training Room" on the door. (See map and directions.)
Instructor: Rob Nickerson
Registration: Admission is free. Space is limited. Registration is required to ensure sufficient handouts will be available.
See the upcoming class list or subscribe to DCN News to stay tuned for class announcements.
Document Actions