Celebrate Davis with DCN
DCN will have a booth at Celebrate Davis on Thursday, May 16 at the Community Park. Come visit us! Ask one of Davis' technological experts, or see a demonstration of intercontinental video-talking, without wires or a toll charge.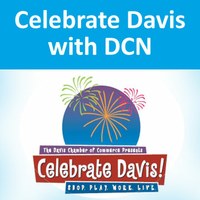 We're not giving away a lot of physical stuff this year at Celebrate Davis on May 16 … but we are offering instructions, knowledge and advice on how to use technology to support community in Davis. Come by our booth to ask us about any of our free tools or services, or to join these specific events:
Ask one of Davis' technological experts: From 6 to 7 p.m., talk about computers, networks or related subjects in Davis with Rob Nickerson, DCN board member and owner of Davis Internet company Omsoft.
Video-talking with China, without wires or a toll charge
Your parents would have said this could not be done: At least once between 7 and 8 p.m. (exact times to be determined – visit our booth to check), watch a demonstration of an intercontinental video call from us to Tsui Chang, a DCN board member temporarily living in China. A free video wireless call from across the Pacific, to an open field in Davis, would have been stupendously impressive 30 years ago. Now it shows how technology can help sustain communities, even when distance pulls us away. Come see how it's done. If you know Tsui, say hi.
Document Actions