DCN Class - "Understanding Kickstarter" - Thur, 11/21/2013
People in Davis have used Kickstarter to help fund projects. Learn what it is and how it works in a free class taught by Jeff Tolentino of Davis Makerspace. Free and open to the public. Pre-registration required.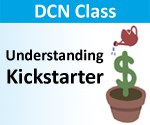 The presentation will include:
planning and development
donor outreach
campaign management
Jeff Tolentino will share his experiences working on a campaign to raise $12,000 for the Sacramento Taiko Dan using Kickstarter, a website for online fundraising (a.k.a. crowdsourcing).
To hear a KDRT interview with a Davis artist who used Kickstarter to pay for his upcoming picture book, go to http://www.kdrt.org/node/12939 and listen to the discussion with Jed Alexander, which starts 15 minutes in.
Date & Time: Thursday, November 21, 2013, 6:30-8:00 p.m.
Location: DCN classes will be held in a classroom in the Technology Department Lab of the Davis Joint Unified School District. The street address is 526 B Street, but the lab is closer to C Street where curb parking is available. Look for the building next to (north of) 515 C Street. The lab is the first door on your right with "Training Room" on the door. (See map and directions.)
Instructor: Jeff Tolentino
Registration: Admission is free. Space is limited. Registration is required to ensure sufficient handouts will be available.
Document Actions