Ad-free email? You can still find it at Davis Community Network
Looking for friendly, low-cost, ad-free email service? DCN teams with Omsoft to offer secure, private "you"@dcn.org email accounts for $2 per month or $20 per year. No one at DCN or Omsoft is scanning your messages so that we can show you ads (we don't show ads). Technical advice and services are available here in Davis. Moreover, the $20 you pay helps support the free services DCN offers local nonprofits — the websites, web tools and classes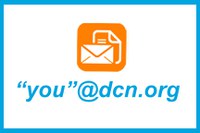 [Op-ed by Bill Buchanan | The Davis Enterprise | 08-31-2014]
Those of us who help run the Davis Community Network sometimes wonder how to publicize the useful things we do, without resorting to publicity stunts or spending money (that we don't have anyway) to buy attention.
So we're grateful that twice in August, Davis Enterprise columnist Debra DeAngelo knocked Cal.net for its decision to drop its paid, friendly, local email service. Because — along with free website hosting for local nonprofits, and free classes — part of what we do is work with a Davis Internet service provider, Omsoft, to offer friendly, low-cost, ad-free email service!
If you have a few minutes, let me take this opening to recap the story of DCN, which a few people formed 21 years ago to help Davis and the surrounding area use Internet technology in a useful, locally minded manner. As a Davis 501(c)(3) nonprofit, we exist so that Davis nonprofits and residents have a noncommercial Internet option if they want to use it.
And while I have your attention: We're actively seeking new board members for the first time since 2010, and want to reach people we don't know yet.
Technological foundation
DCN offers simple programs and assistance to Davis area nonprofits to help them develop their online presence. These services include subsidized email or shell accounts, listserves, disk space, hosting and web pages.
We provide free websites and website hosting for more than 100 Davis area nonprofits, ranging from the Davis Bike Club and Davis Grad Night 2014 to the University Farm Circle and several PTAs. (We have helped more than 300 local groups since 1993.)
We offer a common set of web tools, with the idea that as volunteers move from group to group in town, they won't have to relearn website architecture each time they move.
We maintain a community calendar.
We offer free training and classes — ones in the works for this fall include tips for effective searches, cutting the cable, the Internet of things and how to use an iPad.
We work with local governments. The Yolo Elections Office website is hosted by DCN, as part of our agreement with the county clerk/recorder. We provide hosting and technical assistance for the Davis school district's "District Dollars" website.
But email has been the service in the news, so I'll say a little more about that. As DeAngelo wrote, "You know what I'll pay for? Email that doesn't bombard me with erroneous advertisements, that doesn't glean my private interests and translate them into focused advertising on search engines and websites, that doesn't require me to participate in the corporate data-mining machine, and that has a real live technician who doesn't have a thick accent that I can call and talk to when I want."
That's us! We team with Omsoft to offer secure, private "you"@dcn.org email accounts for $2 per month or $20 per year. No one at DCN or Omsoft is scanning your messages so that we can show you ads (we don't show ads). Technical advice and services are available here in Davis.
Moreover, the $20 you pay helps support the services DCN offers — the websites, web tools and classes mentioned above.
You can read more about the email service at https://www.omsoft.com/dcnmailbox. Read more about DCN at http://www2.dcn.org.
The board gig
For the first time in a few years, we're actively seeking new board members. We have benefited from the advice and leadership of many board members since 1993 — you can find their names, and we thank them all for their service, at http://www2.dcn.org/dcn/about/board.
To join, you don't need to be a technologist — you're qualified if you simply use technology, have at least some interest in it and live in Davis. Our board members also have generally shared an interest in Davis, or in nonprofits, or in education. Some are fairly new to town, and joined to make connections in the community; some have lived here for decades, and know the value of community-focused technology.
We meet monthly. We encourage and support active involvement.
Members of the current board are contacting a few people we know who might like to join us, but we want to reach people all over Davis. If you'd like to discuss the possibility of joining the board, please contact one of us: Bill Buchanan, Sheila Evans, Jim Frame, Teri Greenfield, Anne Hance, Russ Hobby, Jan Meizel, Steve McMahon or Robert Nickerson. Or email me at wmrbuchanan@gmail.com.
— Bill Buchanan has been president of the Davis Community Network board of directors since January 2013.
Document Actions