Community-owned, ultra-fast internet for Davis. What you can do.
High-speed internet access is crucial infrastructure for a community like ours. Davis is way behind comparable communities. We can't depend on Comcast or AT&T to fix this for us. We need to do it ourselves. Here are a few useful links to get informed and involved in the community-driven efforts.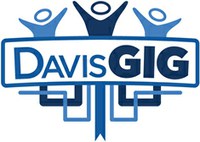 Broadband Advisory Task Force of the City of Davis

DavisGIG (a community driven effort to help bring community-owned, ultra-fast internet to Davis)

There are THREE (3) ways you can help move this project forward:
Make a tax-deductible donation to help pay for the study we need. Consider donating on the Big Day of Giving on Tuesday, May 3.
Send a letter about your broadband experiences, and what you would like for Davis' broadband future to the staff liaison of the Broadband Advisory Task Force, please forward a copy to help@dcn.org
Forward this message to your friends, neighborhood lists, and community groups.
With your help we can address many problems our City faces with this one solution. We can
diversify the economy,
attract and retain businesses,
provide better, cheaper internet connections to our residences,
address digital-divide issues,

create new revenues for our City.
Document Actions