Davis City Council unanimously approved RFP (Request for Proposals)
Davis city council endorses the RFP created by DavisGig and the Broadband Advisory Task Force.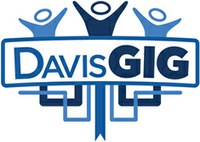 In a unanimous vote, the council approved a call for proposals to evaluate the city's options for a fiber-optic network that could bring gigabit internet connections to local homes and businesses. The feasibility study will give the city ideas about how much various implementations of a broadband network would cost, what risks are involved and what benefits might be possible. That information would help the city and its Broadband Advisory Task Force (BATF) make informed choices.
The Request For Proposals the city plans to issue is based on a draft composed by DavisGIG and supported by the Davis Community Network. The BATF updated the draft and unanimously advised the city to issue the RFP and fund the study.
Issuing an RFP for a feasibility study is the city's first concrete step towards building a municipal broadband network. If the network is determined feasible, the next step would be a more thorough, and expensive, engineering study. The RFP and response process will probably last through most of the remainder of the year, with the actual study conducted over six months in 2017.
Document Actions