What Can You Do About Net Neutrality And Privacy? – Act Locally!
Concrete steps you can take.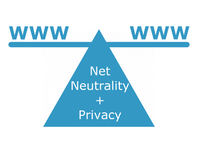 There are dramatic changes in the internet landscape – most recently, the elimination of many privacy protections for internet users, and the looming loss of net neutrality. Practically speaking, this means that large internet service providers (think Comcast, AT&T, and Verizon) will collect and sell your browsing and internet activity data, and those same companies can limit content available to you by forcing content providers and consumers (think Netflix or the New York Times, or you!) to pay extra for full access.
So what can Davis do? Davis is fortunate to have a local group, the Davis Community Network, working to increase our privacy and our access. Founded nearly 25 years ago, and incorporated as a 501(c)3 nonprofit in 1996, DCN has the mission of enhancing the power of the internet for the local community – residents, community groups, nonprofits, city, county, and schools.
Initially DCN worked to provide internet access and ad-free, secure email at minimal cost. The organization then expanded into free website tools, hosting, and email lists to increase the ability of local community groups (think PTAs and sports teams) and nonprofits (think Davis Bicycle Club, Explorit, and the Hattie Weber Museum) to communicate with their members and the larger community.
Informative classes were added to demystify the internet for Davis residents. DCN continues to provide these services, with the cooperation of a local, private ISP, Omsoft.
In the last few years it has become clear that more is needed to ensure that affordable, adequate internet access is universally available in Davis. Fewer and larger internet providers increasingly dominate the market, removing the necessary competition to control prices or encourage improved service. In 2015 concerned citizens formed an ad hoc group, DavisGIG, with the express goal of making gigabit speeds available and affordable in Davis. To avoid duplication of effort and expense, DavisGIG and Davis Community Network combined. Together they encouraged an interested city council to form the Broadband Advisory Task Force. The task force has now selected a consultant, and a feasibility study is about to be undertaken, to provide an accurate overview of the likely costs and possible financing options.
In short, DCN, with DavisGIG, has the goal of an ultra-fast, fiber optic network as a community-owned resource that will provide for all the educational, governmental, public safety, business and private needs of Davis. Internet access has become a utility, necessary for all, and we want to control the revenues from this enterprise to make sure it will be affordable for all who need it. In fact, a fully deployed fiber network can potentially provide additional revenues to the city, as excess capacity may be leased by private utilities and 5G communication providers, among others. Davis will have more control over the privacy of information and the access to content as well.
So what can you do?
Stay informed! Do your children use the internet for school? Do you work from home, or want to follow public meetings? Do you need to reduce the cost of your entertainment? Let your city council know that this is an important issue for you.
Follow and like Davis Community Network and DavisGIG on Facebook and on their websites.
Contribute to DCN/DavisGIG on May 4th , the next Big Day of Giving. We are looking for a large number of small contributions to help us get out the word and demonstrate the amount of interest in the community.
Participate in the effort by either joining DCN's board of directors or attending meetings of DavisGIG and the Broadband Advisory Task Force.
We will soon be asking for interested residents to share (anonymously) their current internet/cable bills, internet speeds, and their level of interest in an alternative to the current choices. Stay tuned!
Questions? Please contact me at mikeadams@dcn.org – I look forward to hearing from you!
Document Actions