Thank you for all the donations at "Big Day of Giving"!
Your support means a lot! We'll announce the final tally when it is available!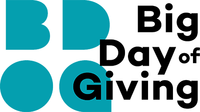 A 24-hour online giving challenge that supports local nonprofits. Please select "Davis Community Network" from the list of participating nonprofits on the easy to use website.
Visit Big Day of Giving's website at www.bigdayofgiving.org/DavisCommunityNetwork starting Thursday, May 3, 2018, 12:00 a.m. to midnight.
PLEASE PLAN TO GIVE ON MAY 3 OR SCHEDULE YOUR GIFT IN ADVANCE.
To schedule in advance, please click here. If you schedule your donation in advance of Big Day of Giving, it will process on May 3rd during the first few hours of the event. (You'll receive an emailed tax receipt once your gift is processed.) It's a low-stress way to make sure you support the causes you love!
Davis Community Network is a nonprofit which has been serving the community since 1993 helping local nonprofits utilize internet tools to be more effective in serving their missions. DavisGIG's goal is to bring fast, affordable, community-owned fiber optic internet network to Davis. To find out more please visit www.dcn.org and www.davisgig.org.
Our top needs:
Funding: Program - DavisGIG program: ($250,000) Funds are needed for research into the most feasible fast fiber network to support internet access available to all residents and businesses in Davis.
Funding: Program - Funds are needed for outreach to the community to explain the results and importance of our findings. ($20,000)
Funding: Other - Funds are needed to improve the data management and fundraising of Davis Community Network. ($35,000)
Space: Office or Other - Funds are needed for improved office space and access to classroom space for our free community classes. ($24,000)
Funding: Other - We need to support an executive director of the organization, to help further all our goals and give the organization sustained focus. ($125,000 requested)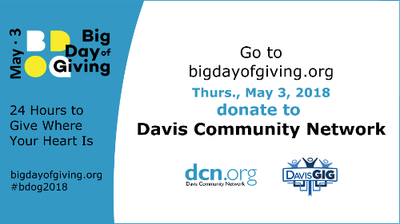 Document Actions