DCN Class - DCN Web Calendar - Thur, 5/9/2013
This class offers instruction on use of DCN's updated (2013) Web Calendar, a tool developed by DCN's Web Team. It will introduce new calendar facilities, and will be of use to existing users as well as new. The Web Calendar can be installed on an organization's website to help promote its events and activities and can also link to a master Community Calendar hosted on DCN's site.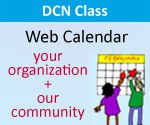 This Community Calendar can be viewed at http://events.dcn.org.

Date & Time: Thursday, 5/9/2013, 6:30-8:00 p.m.
Location: DCN classes will be held in a classroom in the Technology Department Lab of the Davis Joint Unified School District. The street address is 526 B Street, but the lab is closer to C Street where curb parking is available. Look for the building next to (north of) 515 C Street. The lab is the first door on your right with "Training Room" on the door. (See map and directions.)
Instructors: Steve McMahon
Registration: Admission is free. Space is limited. Registration is required to ensure sufficient handouts will be available.
Document Actions