DCN Class - Cascading Style Sheets (CSS) - Thurs, 9/20/2012
Offered by popular demand, this class introduces you to Cascading Style Sheets (CSS), which are a simple way to add style (including fonts, color, and formatting) to websites. Good CSS skills help ensure your website will be well-designed, user friendly, and appealing to visitors. This hands-on class will show you useful free software for proficient use of CSS. It will also use DCN SimpleSites as a concrete example.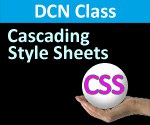 Date & Time: Thursday, 9/20/2012, 6:30-8:00 p.m.
Location: DCN classes will be held in a classroom in the Technology Department Lab of the Davis Joint Unified School District. The street address is 526 B Street, but the lab is closer to C Street where curb parking is available. Look for the building next to (north of) 515 C Street. The lab is the first door on your right with "Training Room" on the door. (See map and directions.)
Instructor: Steve McMahon
Registration: Admission is free. Space is limited. Registration is required to ensure sufficient handouts will be available.
Document Actions