How to change the visual theme of your SimpleSite (video)
This is among the topics of DCN's step-by-step video tutorials. It's easy, even if you don't know anything about cascading stylesheets (CSS). Either select a color theme from DCN's gallery or use your own custom stylesheet. Also learn how to add a graphic logo to the banner. More videos will be available online.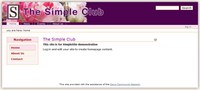 Click on image to enlarge this example.
To change your SimpleSite's visual theme, watch the videos below or visit the new DCN gallery at http://www2.dcn.org/dcn/help/ss/style/css
Click on the arrow to start the video.
For a larger screen, click on either the "You Tube" or "Full Screen" icon near the bottom right after starting the video.
;
Document Actions