DCN Class - "Social Media Series - Twitter 101"
Interested in learning about Twitter but don't know where to begin or how to use its many features? This class will provide an informative introduction and overview. Admission is free. However, space is limited. Pre-registration is required.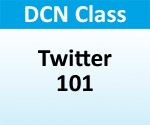 Location: City Training Lab, 600 A Street (between City Hall and the Senior Center). Park on the south side of the building. Walk north toward the building to enter the courtyard. The lab is the first door on your right. See map.
Date & Time: Thursday, 9/22/2011, 6:30-8:00 p.m.
Instructor: Keith Bradnam
Document Actions