Useful free classes in the spring series. Register now!
As always, the courses are free, taught in town, and useful (we do this for free, so we'd be wasting our time, as well as yours, if they weren't useful). Subjects this season include how to use DCN tools, putting video online (taught by one of the people who helped bring the Internet to Davis, incidentally), and email list management, plus two classes we are particularly glad to offer. For details, see the class schedule. Register now.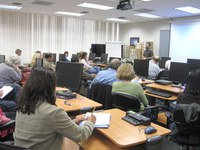 Davis Community Network frequently schedules free public classes and workshops as part of its commitment to educate the public about the Internet, DCN's community applications, and DCN's services. These classes are useful for organizations and individuals. Some of the classes are offered once only while others are ongoing. Admission is free. However, space is limited.
Location: Most classes are held at 526 B Street, in the Technology Department Lab of the Davis Joint Unified School District (between Russell and 6th Street). The building is behind the north side of DJUSD's administration building. The lab is closer to C Street where curb parking is available. (See map)
Dates & Times: Dates are listed in the schedule. Classes are 6:30-8:00 p.m. unless stated otherwise.
Registration: Admission is free. However, space is limited. Pre-registration is required to ensure there will be enough hand-outs. Register now or contact admin@dcn.org or 750-1170.
Subscribe to DCN News to stay tuned for class announcements. You can also consult our calendar for upcoming classes.
Document Actions