Spring 2013 Class Schedule
Davis Community Network frequently schedules free public classes and workshops as part of its commitment to educate the public about the Internet, DCN's community applications, and DCN's services. These classes are useful for organizations and individuals. More classes may be added to this list based on demand and instructor availability.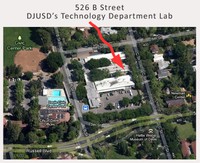 Location: DCN classes will be held in a classroom in the Technology Department Lab of the Davis Joint Unified School District. The street address is 526 B Street, but the lab is closer to C Street where curb parking is available. Look for the building next to (north of) 515 C Street. The lab is the first door on your right with "Training Room" on the door. See details.
Time: All classes are 6:30-8:00 p.m. unless stated otherwise. Dates are listed in the schedule below.
Registration: Admission is free. However, space is limited, especially for the hands-on classes. Please click on button below to register or drop a class. Have questions or want to arrange a special class for your not-for-profit organization? Contact admin@dcn.org or 750-1170.

Fabulous new classes have been added to our core offerings. Register now! Subscribe to DCN News to stay tuned for class updates. You can also consult our calendar for upcoming classes.
Date

Class title
Instructor
Thursday,
April 11, 6:30-8:00 PM

EMAIL LIST MANAGEMENT WITH MAILMAN

A Mailman List is a very effective way for an organization to communicate with any size group -- boards of directors, project committees, members, supporters, or other constituents. Learn how to manage all your email lists with Mailman.

Steve McMahon
Tuesday,
April 16, 7:00-8:00 PM

DCN TOOLS FOR YOUR ORGANIZATION

Discover DCN's free Web/Internet Tools for your organization. DCN can offer your nonprofit or community group a website template with a calendar and an email list service. It's local and it's free! Come and find out how you can serve your constituents better by using the DCN Tools.

Jan Meizel and Anne Hance

Thursday,
April 18, 6:30-8:00 PM

DCN TOOLS WORKSHOP

More than 100 local nonprofits use the free services and tools provided by Davis Community Network. If you use the tools to manage a website, or will be soon, this hands-on workshop will show you how. The tools include: SimpleSites website templates, Mailman email list management, and the DCN Community Calendar. DCN will have several volunteers on hand to answer your questions and show you new techniques. Stay for the entire workshop or just to get your questions answered.

Steve McMahon &

DCN Web Team

Thursday,
April 25, 6:30-8:00 PM

VIDEO ON YOUR WEBSITE

You have shot some fine video footage on your camera but how to you get it onto the web? Want to put your video on YouTube or your own website? This class will cover the steps and some of the options for getting video from your camera to a viewable video on the Internet. Need to do some editing on your video? This step will be discussed too.

Russ Hobby

Thursday,

May 9, 6:30-8:00 PM

DCN WEB CALENDAR

This class offers instruction on use of DCN's updated (2013) Web Calendar, a tool developed by DCN's Web Team. The class will be especially helpful for current and prospective users of DCN's group and community calendar. The Web Calendar can be installed on an organization's website to help promote its events and activities. You can also use this tool to easily link into the master Community Calendar hosted on a DCN site at http://events.dcn.org.

Steve McMahon
Tuesday,
June 18

YOU'VE BEEN HACKED OR INFECTED: WHAT TO DO NEXT

If your accounts have been hacked or infected, how do you repair the damage? What do you do to minimize the possibility of a repeat intrusion? We're still putting this program together, but we intend to present a panel of people who can offer useful ideas and practical advice. Check back for updates.

TBA



More classes may be added based on demand and instructor availability. Please contact admin@dcn.org if you have any questions.





Local non-profits and community groups are welcome to apply for DCN's free Internet resources, including Mailman lists, SimpleSites, web calendar, etc. Please visit http://www2.dcn.org/dcn/about/committees/rac/apply_html for details.
Document Actions