Dodging schedule smashups
A shared community calendar, maintained by the crowd, can help keep Davis groups from competing for the same audiences on the same nights. Here's how. By Bill Buchanan.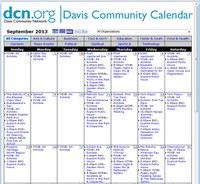 In the list of Davis civic problems, this one ranks low enough to drop out of sight most of the time. But it's still frustrating, and an easy cure exists.
The problem is conflicting events. Dueling fund-raisers. A glut of good activities. It happens when Davis groups, nonprofits, and fund-raisers schedule their shows, fairs and other key fund-raisers on the same day as the event of another, equally worthy Davis nonprofit.
The conflicts can't be eliminated. Davis has too much going on, especially during the school year. But the conflicts could be reduced if more Davis groups would:
Post their events on the shared community calendar at http://events.dcn.org.
Check the shared calendar for possible conflicts when planning events in the future.
(Disclosure: The shared calendar is a product of the Davis Community Network, and I'm a member of the DCN board. However, we don't make money from it. No one does. Most of us on the board volunteer for other Davis groups too, and my predecessors years ago saw the need for an online calendar that is easy to find, use, update, and share. DCN provides free web services to Davis-area nonprofits, and the calendar is a natural extension of those services. That's why we offer it.)
The setup is simple. As soon as a Davis group schedules a significant event, it would put the date on both its own calendar and on the shared community calendar. Doing this publicizes the event and helps other groups know what's coming as they plan their own schedules.
DCN offers nonprofits free individual website calendars that can further simplify the sharing. Groups can customize the individual calendars on their own sites—dozens already do—and then easily send information from their own calendar to the shared calendar for immediate updates. You can read more at http://www2.dcn.org/dcn/about/projects/dlit/simple-website/calendar/
The more we all use the shared calendar to announce events, the more useful the calendar becomes. More entries means more value; more value means more engagement. We could create a virtuous circle here.
This routine won't cost anyone anything. No one has to join a committee or pay a fee. Event organizers just need to devote a few minutes of their planning and promoting time to posting news about their event on the shared calendar. They have already gathered the information. The calendar just helps spread the word.
If you have questions or comments about the calendar, please tell us. Comments have helped the calendar evolve since DCN, largely thanks to Steve McMahon, created the first version about a dozen years ago. Contact Steve at steve@dcn.org.
If you call up the calendar today or next week, you will not find it suddenly full of timely information. It's currently underused. Updating and consulting it needs to be a sustained discipline for all of us in town who promote community events, not a do-it-once-and-forget-it fix.
But if you agree that having one shared online community calendar with information about Davis events would be useful, then please join us in creating it by posting dates and information about your group's events, this fall, in 2014, and onward, at events.dcn.org.
And thank you!
Bill Buchanan of Davis is president of the Davis Community Network Board of Directors for 2013.
[This also appeared as an op-ed in The Davis Enterprise. See http://www.davisenterprise.com/forum/opinion-columns/dodging-schedule-smashups/]
Document Actions