Fall 2010 Class Schedule
DCN, in its commitment to public education about the Internet and its community applications and services, frequently schedules free public classes and workshops. More classes may be added to this list based on demand and instructor availability.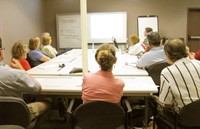 Location: DCN classes are usually held at the City of Davis' Training Lab, 600 A Street (between City Hall and the Senior Center). Enter the courtyard on the south side of the building; the lab will be the first door on your right. Please note the September 28th class will be held at the Davis Senior Center.
Time: All classes are 6:30-8:00 p.m. unless stated otherwise. Dates are listed in the schedule below.
Registration: Admission is free. However, space is limited, especially for the hands-on classes. Please contact admin@dcn.org or 750-1170 to register or to inquire about arranging a special class for your not-for-profit organization.
Subscribe to DCN News to stay tuned for class announcements. You can also consult our calendar for upcoming classes.
Date

Class title
Instructor
Thursday, 9/2/2010
6:30-8:00 p.m.

WEB CALENDAR CLASS

This class offers instruction on use of the Web Calendar, a tool also developed by DCN's Webteam. The Web Calendar can be installed on an organization's website to help promote its events and activities and can also link to a master Community Calendar hosted on DCN's site. This Community Calendar can be viewed at http://events.dcn.org.


Steve McMahon
Tuesday, 9/7/2010
6:30-8:00 p.m.

SOCIAL MEDIA SERIES - LINKEDIN

This is part of DCN's Social Media Series. Participants will learn how to connect with colleagues using the tools in LinkedIn.

Stewart Savage
Thursday, 9/9/2010
6:30-8:00 p.m.

EMAIL LIST MANAGEMENT WITH MAILMAN

A Mailman List is a very effective way for an organization to communicate with any size group -- boards of directors, project committees, memberships, supporters, or other constituents. Learn how to manage all your email lists with Mailman.

Steve McMahon
Tuesday, 9/14/2010
6:30-8:00 p.m.

BLOGGING FOR BEGINNERS

Do you like to write? Have you always wanted to share your thoughts about life, politics, children, wine or some other thing with the world? Then blogging is for you.

What a blog IS

: A blog is generally one person or a group of people's opinion about something that interests them. There are cooking blogs, or music blogs or personal blogs that tell your day to day activities, or political blogs where someone expresses his or her opinion about the current events. Blogs are generally updated on a regular basis, whether daily or weekly or monthly–but the purpose of a blog is to be able to share your thoughts on a regular basis.

What a blog IS NOT

: A blog is not a web site that gives information about your organization or your place of business.

If you're interested in learning how to set up a blog, this is the class for you. It will cover where to put your blog on the Internet and how to dress it up with graphics and photographs. For the hands-on exercise, participants will need a Gmail account. If you do not already have one and need assistance setting one up, please arrive 15 minutes early.

Bev Sykes
Thursday, 9/16/2010
6:30-8:00 p.m.

WEBSITE CREATION USING SimpleSites 2.0

DCN's Webteam, led by Steve McMahon, developed SimpleSites version 2, a web tool that provides the power of a modern, interactive website in a ready-to-install template. SimpleSites, recognized for its ease of use and value to nonprofits, earned a National Grassroots Techie Award. In this class, learn to build a website using SimpleSites. No previous web authoring experience necessary. Examples can be seen at http://groups.dcn.org/.

Steve McMahon
Thursday, 9/23/2010
6:30-8:00 p.m.

SPECIAL WEBSITE TOOLS IN SimpleSites 2.0

This class will focus on features and tools not covered in the SimpleSites 2.0 class. Learn how to use SimpleSite tools to integrate seamlessly with social networking tools, create slide shows, web forms, manage data, add blogs, maps, videos, RSS, a Mailman subscription form, etc. Knowledge of SimpleSites 2.0 preferred but not required.

Steve McMahon
Tuesday, 9/28/2010
7:00-8:30 p.m.
Meet at Davis Senior Center, 646 A St.

WHAT'S NEW ON THE INTERNET? Information and Advice


The shape of the Internet/Web window on our computer screens has changed very little but the view has changed a lot. How are such opportunities as Facebook, Myspace, Twitter, blogs, Podcasts, RSS and "Cloud" computing such as GoogleDocs etc. changing our lives? Even if you personally are not using these applications are they affecting the society you live in more than you realize? We'll take a look. This class is co-sponsored by the Internet Users Group. Please note it will meet at the Davis Senior Center (646 A Street) instead of the City Training Lab, 7:00-8:30 p.m. Wi-Fi is available. Bring your laptop if you wish.

Teri Greenfield, Anne Hance, Kari Peterson
Thursday, 10/7/2010
6:30-8:00 p.m.

COMMUNICATION STRATEGIES FOR NONPROFITS



Look Before You Leap: Choosing the Best Communication Tools for Your Nonprofit

Does your nonprofit organization want to make a greater impact, involve more people or raise more money? You can if you get better at reaching out, telling your story and getting people to notice you. This is what strategic communication is all about. There are a lot of tools out there designed to help you communicate with your various target audiences. Some are traditional (like press releases and direct mail), some are new like social media (Facebook, Twitter). What tools are best for you?

Kari Peterson
Tuesday, 10/12/2010
6:30-8:00 p.m.

SO - WHAT IS WEB ACCESSIBILITY

Attention web developers, business owners, nonprofit administrators, interested individuals!

What is web accessibility? How do persons with physical disabilities access the web? How can your organization ensure its web content make accessibility to all, and meet future possible legal obligaions? What is Section 508 and where is the Americans with Disabilities Act headed? What are the Web Content Accessibility Guidelines (WCAG 2.0)? What are common web development errors with regard to content and accessibility?

Doyle Burnett

Tuesday, 10/19/2010
7:00-8:30 p.m.

SOCIAL MEDIA SERIES - TWITTER


This class is for beginners. Please note this class starts at 7 p.m. There's a hands-on component. Wi-Fi is available in the lab. You may bring your own laptop if you wish.

Keith Bradnam

Thursday, 10/21/2010
6:30-8:00 p.m.

SOCIAL MEDIA SERIES - FACEBOOK

This class will offer an overview of Facebook for beginners. We will also discuss issues related to privacy, and how to set limits on how personal information is shared on social networking websites. As an exercise, we will help students set up accounts on Facebook. There's a hands-on component. Wi-Fi is available in the lab. You may bring your own laptop if you wish.

Teri Greenfield

Tuesday, 10/26/2010
6:30-8:00 p.m.

WI FI ROUTER CLASS

Want to enjoy the convenience of WiFi in your organization or at home? Come and learn how to setup a wireless router, secure it, and do port forwarding.

Rob Nickerson

Thursday, 10/28/2010
6:30-8:00 p.m.

MANAGING YOUR BRAND AND KEEPING AN EYE ON THE COMPETITION

Keeping track of what people are saying about your organization, your business, or your competition is an important aspect of PR and branding. In DCN's upcoming class "Managing Your Brand and Keeping an Eye on the Competition," you will learn how to use a variety of Internet and social media tools to do so.

Stewart Savage



More classes may be added based on demand and instructor availability. Please contact admin@dcn.org if you have any questions.




Local non-profits and community groups are welcome to apply for DCN's free Internet resources, including Mailman lists, SimpleSites, web calendar, etc. Please visit http://www2.dcn.org/dcn/about/committees/rac/apply_html for details.
Document Actions