Spring 2012 Class Schedule
Davis Community Network frequently schedules free public classes and workshops as part of its commitment to educate the public about the Internet, DCN's community applications, and DCN's services. These classes are useful for organizations and individuals. More classes may be added to this list based on demand and instructor availability.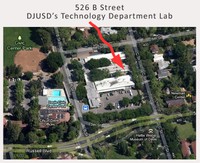 Location: DCN classes will be held in a new and larger classroom in the Technology Department Lab of the Davis Joint Unified School District. The street address is 526 B Street, but the lab is closer to C Street where curb parking is available. Look for the building next to (north of) 515 C Street. The lab is the first door on your right with "Training Room" on the door. See details.
Time: All classes are 6:30-8:00 p.m. unless stated otherwise. Dates are listed in the schedule below.
Registration: Admission is free. However, space is limited, especially for the hands-on classes. Please click on button below to register or drop a class. Have questions or want to arrange a special class for your not-for-profit organization? Contact admin@dcn.org or 750-1170.

Fabulous new classes have been added to our core offerings. Register now! Subscribe to DCN News to stay tuned for class updates. You can also consult our calendar for upcoming classes.
Date

Class title
Instructor
Thursday, 4/5/2012
6:30-8:00 p.m.

WEBSITE CREATION USING SimpleSites 2.0

DCN's SimpleSites tool provides the power of a modern, interactive website through the web. In this class, learn to build a website using SimpleSites. No previous web authoring experience necessary. See examples.

Steve McMahon
Tuesday, 4/10/2012 6:30-8:00 p.m.

ONLINE COLLABORATION - TIPS AND TOOLS

A wide range of free software tools now make it easy to organize large projects among many different people, or small projects involving just a few people, all without leaving the comfort of your web browser! This class includes an overview of many of the available software products that can help your organization work together more efficiently.

Keith Bradnam
Thursday, 4/12/2012
6:30-8:00 p.m.

SPECIAL WEBSITE TOOLS IN SimpleSites 2.0

This class will focus on features and tools not covered in the SimpleSites 2.0 class. Learn how to use SimpleSite tools to integrate seamlessly with social networking tools, create slide shows, web forms, manage data, add blogs, maps, videos, RSS, a Mailman subscription form, etc. Knowledge of SimpleSites 2.0 preferred but not required.

Steve McMahon

Tuesday, 4/17/2012 6:30-8:30 p.m.

PROTECTING YOURSELF ONLINE: A GUIDE TO INTERNET SAFETY

Do you know what to do if you get a computer virus, or how to turn off geolocation on your smartphone? These are two of the topics we will address in this class on Internet security. Other topics include malware, phishing, scams, identity theft, antivirus and firewall software, passwords, social media privacy concerns, router settings, smartphones, and much more.

Tim Valdepena
Thursday, 4/19/2012
6:30-8:00 p.m.

ONLINE COLLABORATION - SKYPE FOR BEGINNERS

This class provides an overview of Skype for beginners. Skype allows users to communicate nationally or internationally at little or no charge -- by voice, video, and instant messaging over the Internet. As an online collaboration tool, Skype has features like file transfer, and videoconferencing.

Jan Meizel

Tuesday, 4/24/2012
6:30-8:00 p.m.

You pulled up the website you're responsible for and had to get a cup of coffee before the images finished loading.

Volunteers called to complain that the photos in your organization's last newsletter made them appear much skinnier/fatter than they are in reality.

Your computer predicted it would take 3 days to email/upload your 1-page flyer for tomorrow's event to the copy shop.

If you've found yourself in any of the above situations, join us for this beginners workshop on the basics of digital images. When you leave the class, you'll have a conceptual understanding of how a digital image is stored, what factors affect image size and appearance, tips for managing images and tools you can utilize to ensure your images are ready for printing and/or posting on the web.

Nick Cheng
Thursday, 4/26/2012
6:30-8:00 p.m.

EMAIL LIST MANAGEMENT WITH MAILMAN

An email list is a very effective way for an organization to communicate with any size group -- boards of directors, project committees, memberships, supporters, or other constituents. Learn how to manage all your email lists with Mailman.

Steve McMahon
Tuesday, 5/1/2012 6:30-8:00 p.m.

COMMUNICATION STRATEGIES FOR NONPROFITS

Look Before You Leap: Choosing the Best Communication Tools for Your Nonprofit

Does your nonprofit organization want to make a greater impact, involve more people or raise more money? You can if you get better at reaching out, telling your story and getting people to notice you. This is what strategic communication is all about. There are a lot of tools out there designed to help you communicate with your various target audiences. Some are traditional (like press releases and direct mail), some are new like social media (Facebook, Twitter). What tools are best for you?

Kari Peterson
Thursday, 5/3/2012
6:30-8:00 p.m.

WEB CALENDAR

This class offers instruction on use of the Web Calendar, a tool also developed by DCN's Webteam. The Web Calendar can be installed on an organization's website to help promote its events and activities and can also link to a master Community Calendar hosted on DCN's site. This Community Calendar can be viewed at http://events.dcn.org.

Steve McMahon



More classes may be added based on demand and instructor availability. Please contact admin@dcn.org if you have any questions.





Local non-profits and community groups are welcome to apply for DCN's free Internet resources, including Mailman lists, SimpleSites, web calendar, etc. Please visit http://www2.dcn.org/dcn/about/committees/rac/apply_html for details.
Document Actions